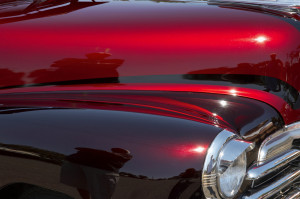 At Pinehurst Mobile Detailing we offer high quality buffing and polishing compounds that are clear coat/gel coat safe. Our 3 step process starts with a paint leveling compound that removes oxidation, 1000 grit or finer scratches and other blimishes. We also have a heavy cut compound that will remove 800 grit scratches and other significant imperfections. The first type of buffing compound will be determined on-site by the auto detailing professional. After the paint leveling process is over the imperfections and environmental pollutants will have been removed.
The second step is to apply the proper polish and glaze so that your paint has a high gloss and perfect mirror like shine. Our high tech cutting glaze will remove any buffing swirls that are left over from the first buffing step and leave you with a quality finish. We have multiple types of glaze so once agian the right product for your automobile or RV will be determined by the detailing professional. Also keep in mind that products used by Pinehurst Mobile Detailing are body shop safe, and VOC compliant.
The third step is to apply the finest and longest lasting  paint sealant on the market today. We are proud to say that our Polymer Paint Sealant brought to you by our friends at Detail King provides an unbeatable protective coating. It's unique blend of polymers, resin and zonyl forms a durable advanced sealant that we guarentee for one year. The days of designer wax and over the counter polishing products are gone forever. With our three step process your automobiles and RV's will glisten in the driveway and be the envy of the highway.
This 3 step process will take 4 to 6 hours and can only be applied after the automobile or RV has been properly cleaned. We suggest using the service in conjunction with one of our wash packages to keep the cost down. For an example of the cost each step for a small car is $55 per step. A full detail on a small car is $105.00 so add the 3 step process and your total comes to $270.00. This process with a full detail may take 8 to 10 hours and a shaded area is preferred but not a must. If you have a car for sale or love the car you own then we hope you consider our wonderful paint restoration products and services.
Car- $165.00
Mid-Size SUV-$195.00
Large SUV, Trucks & Minivans- $225.00
Please click on CONTACT US to schedule an online appointment or if you need immediate assistance call (910) 373-1751 and speak to an auto detailing professional. Thank you for browsing our website and we hope to serve you soon.
All of our services are performed by automotive detailing professionals. For more information please click on your preferred option and let Pinehurst Mobile Detailing begin serving you today!